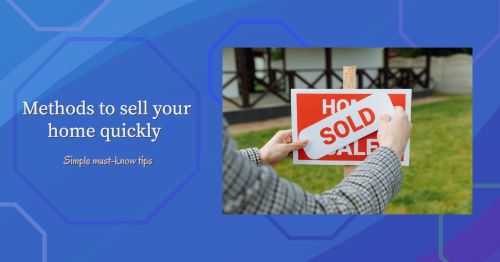 The real estate market is constantly hustling and bustling. If you're aiming to sell your home, think about whether you need to do so quickly to make room for your next adventure in life.
If you wish to sell your home fast and with ease, there are a few steps you can take to get your home sold and off the market.
Price to sell quickly
When you put your home on the market, it's essential to list at a price point attractive to potential homebuyers. Pricing the property too high can scare away quality prospects, and pricing too low can make potential homebuyers question the integrity of the property.
Pricing too low can also lose money for the home seller, so it's best to work with a real estate agent to figure out pricing. They can analyze local data of similar properties in the area to find the best "sweet spot" for pricing, which typically is just a little under market value.
Clean & depersonalize your home
Before taking pictures of your home or opening up the property for showings, it's essential to clean and depersonalize the property. Making sure the property is tidy opens the space to be viewed more clearly and helps to get rid of visual clutter.
Depersonalizing the home consists of taking down personal items such as household photos, religious items, pictures drawn from kids and pretty much anything of personal taste. This process helps to neutralize the home so when potential buyers see the property, it's easier for them to envision their lives there.
Add some great perks to the deal
When listing your home on the market, adding unique perks can help to attract more potential homebuyers. Here are a few deals you can add to your listing to make the home purchase even sweeter:
Offer to pay for all repairs if any need to be made.
Be flexible with the closing date.
Cover most or all of the closing costs.
Offer a home warranty.
Listing your home can feel intimidating, however working with a knowledgeable real estate agent, you can market your home to sell quickly.